Nearly a thousand people at first NAKT fashion show at Griessmuehle, Berlin.
Hundreds of people waiting in line, area had to be closed down by the club's security staff due to overcrowding.
September 7th, 9pm: there's already a huge queue building up from the show entrance area throughout the whole Griessmuehle premises. People are waiting to finally see the insides of what our NAKT team has made of the club's backyard and worked on for nearly three months. In the meantime, preparations are still running at full blast on the inside of the area. Models running around naked, last fittings are being made, Hair and Make Up that needs to be finished and the last rehearsal is long overdue. But even though chaos seems to be taking over, the whole NAKT team manages to get everything in order and is ready to welcome their first patient fans and people from the press with a little delay of 30 minutes. Meanwhile at the gate of NAKT fashion show hundreds of people are lining up, waiting to be let inside. Since the show wasn't expected to be that overrun, Griessmuehle security staff had to take safety precautions and temporarily close the entrance to the club, though free prosecco, sponsored by Griessmuehle, tuned NAKT guests in for what is about to come.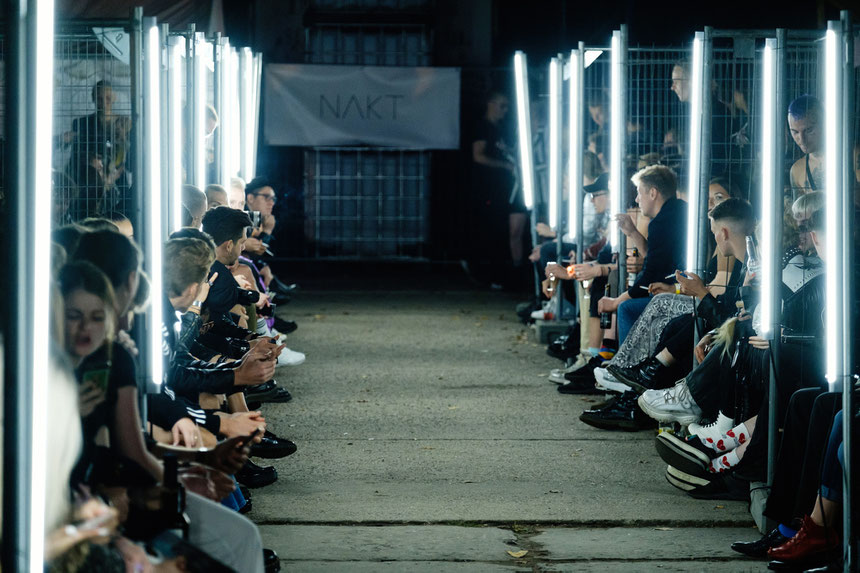 After all guests were seated, the documentary movie RAVE by Artur Valverde is shown which accompanied four Berlin girls on their night out in a techno club. 
10:45pm: the show begins. 21 models in raincoats walk out on the runway to mystical music. They stand still next to each other, they're eyes are lowered. There's silence. Then, the tune changes to a catchy techno beat and models start undressing.
Every models displays now a unique NAKT design while they're dancing to the beat of the music. The audience is amazed, people are cheering and whistling. After the models walk back to the backstage area, the conventional kind of a runway show starts. Model after model presents their NAKT designs, which are - most of the time - pretty naked. The atmosphere is nothing like a normal runway show, since the crowd is screaming full of enthusiasm.
In the end, NAKT founder and designer Moritz Danner, together with his partner Felicitas Diepolder, quickly thanked everyone.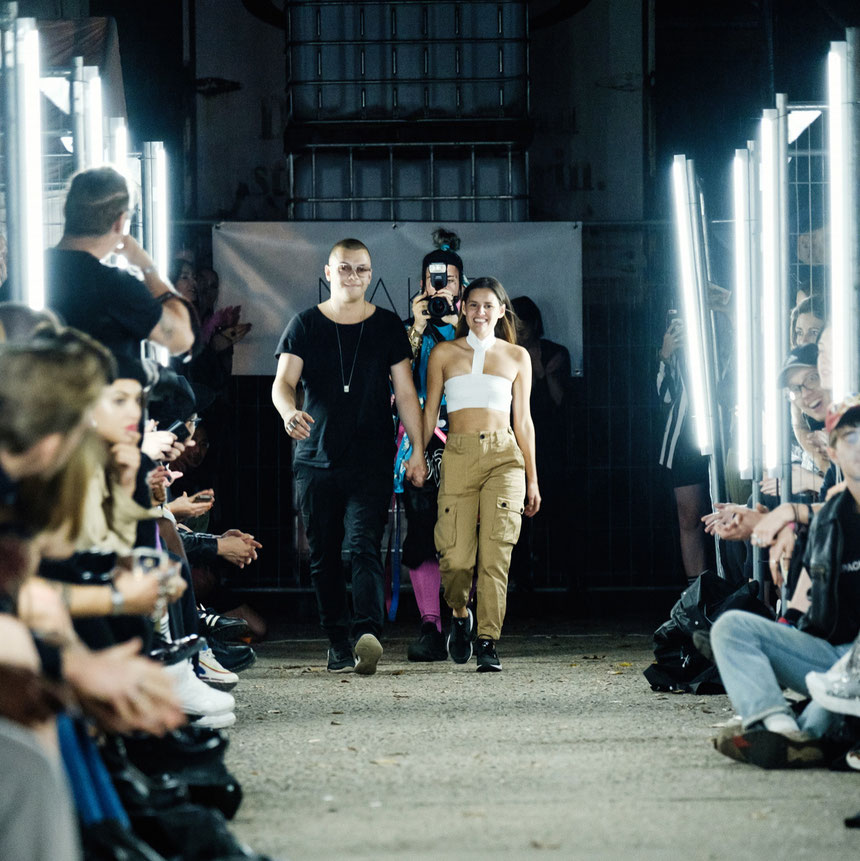 The show is over but the party is just beginning. Four tattoo artists from 19:28 tattoo studio in Neukölln made their way to Griessmuehle and are inking numerous models, fans and staff. Unfortunately, some rain interrupts people from networking, partying and shopping at the NAKT pop up stand but the party is relocated into Griessmuehle where NAKT supporters, models and countless helpers celebrate the very successful first NAKT fashion show.